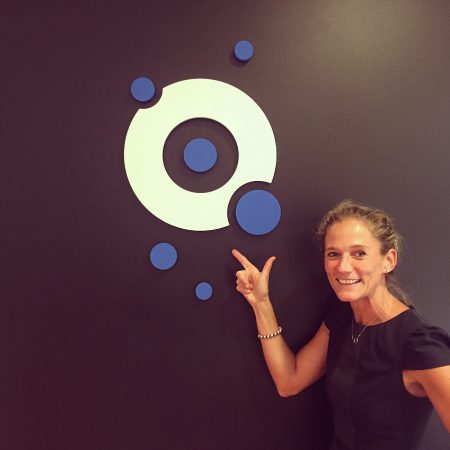 Press Release: Specops Software Sponsors Squash Professional Stephanie Richardson Hewitt
Toronto, Canada <October 20, 2016> – Specops Software announced today that it will sponsor Stephanie Richardson Hewitt, Canada's top female squash doubles player, on the Women's Squash Doubles Association (WSDA) Tour. The WSDA was founded to promote and develop women's double squash, support local urban junior squash programs, and breast cancer research.
Having conquered the sport in singles, Stephanie now holds a coveted 3rd place ranking as a doubles player. Yet, it is her unique stories of perseverance that attract Specops Software to Stephanie. Whether it was competing against close friends (including the boys), playing while pregnant, or managing a career while still competing at pro-tournaments, Stephanie's journey is a source of inspiration for the Specops Software team.
In a recent sit-down at the Specops Software office in Toronto, Stephanie discussed the importance of being a role model; "To set an example for young women, whether it is in sports, or the IT field, it is important to have role models. It is up to us to generate interest." A message particularly relevant to the IT industry, commonly identified with the under-representation of women.
"Our partnership with Stephanie occurred organically," says Aimée Ravacon, Director of Marketing. Remembering Stephanie's personal stories, Aimée concludes: "She is an inspiration for women and athletes and we are proud to sponsor Stephanie."
The Canadian stop on the WSDA tour partners with the Canadian Breast Cancer Foundation, and will take place on October 20-22, 2016 at the Toronto Cricket, Skating & Curling Club. "Community involvement is a part of the culture at Specops Software" says Johan Ogren, President of North American Operations since Specops opened their first office in Toronto. "We will be there to cheer on Stephanie!" he adds.
About Specops Software
Specops Software is an award-winning software company that develops solutions for desktop and password management which extend the functionality of Windows infrastructure. With offices in the US, Canada, the UK and headquarters in Stockholm, Sweden, Specops Software helps companies, organizations and educational institutions in more than 50 countries. Specops Software has grown steadily since it was founded in 2001 and reports strong turnover and solid profit.
(Last updated on October 30, 2023)
Related Articles
New enrollment features address number one self-service password reset solution challenge Forced enrollment capabilities introduced New user based reporting shows who has enrolled Allows IT administrators to target the right users with the right actions Stockholm – February 3, 2016. Specops Software announced today a new release of Specops uReset with support for forced enrollment and…

Read More

Specops Deploy 5.0 supports UEFI and Windows 8.1 Mobile workforce can access PC software One deployment solution for Windows XP to Windows 8.1 Stockholm, Sweden –  February 4, 2014. Specops Software announced today the release of Specops Deploy 5.0 that brings the power of simple desktop management to tablets. Now companies can create standardized desktop…

Read More