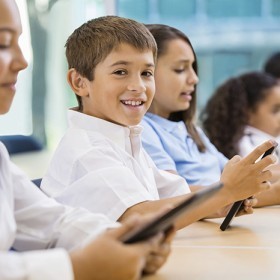 Organization: Loughborough Endowed Schools
Country: United Kingdom
Industry: Education
Goal: Introduce one-to-one iPads to students and staff and deliver a better password management experience.
Result: All password-related requests managed by users with a self-service password reset service for any device.
Solution: Specops Password Reset
When the IT department at Loughborough Endowed Schools started looking for password management software, they knew what they wanted. Richard Smeeton, Director of IT for the group of schools, had experience from password management projects in the past and knew the convenience and savings to be gained.
"I knew there were efficiencies to be made, especially given our mix of iPads and PCs, and started looking for the right solution," Richard says. "The one-to-one project we were initiating would put iPads into the hands of all of the students but our users would no longer have a natural reminder that their passwords were about to expire."
Loughborough Endowed Schools is a group of schools in England, with 500 teaching and administration staff members and over 2,000 students ranging from ages 4 to 18 years old.
Before introducing password management software the password reset process was time consuming and costly. When a student forgot their password they would contact their teacher, who would contact the IT Department for help. Staff also struggled with expiring passwords as the warnings during Windows login were not always presented when the staff member was logging in from home or from a mobile device.
The schools' IT policy required passwords to be changed every 90 days, but any expiry during school holidays caused problems. So Richard and his team relied on special scripts to find users whose passwords were set to expire during a holiday period and extend the expiry.
When one of the schools began a tablet rollout in 2013, Richard knew the password expiration warnings would disappear and the situation would worsen. Passwords didn't just give access to the school systems, but also controlled internet access permissions on the iPad. Without a working school password, internet service was lost too. Staff unable to work at home would sometimes resort to coming into school on the weekend or during the holidays just to reset their passwords, and this was inconvenient and frustrating. Students didn't have this option, and would simply lose access to the internet and school services when their passwords expired.
"We were swamped with password reset requests and couldn't focus on more strategic projects," Richard says. "I researched a number of identity management software offerings, but I didn't need all of the extras included in these solutions. Many packages were too expensive or had features I simply didn't need but I knew that if I found the right software that solved our problem, it would pay for itself."
After short-listing three products, a detailed proof of concept was undertaken with each. Specops Password Reset met all of Loughborough Endowed Schools' requirements and was selected as the preferred solution. "Specops Password Reset is simple, elegant and complemented by an app that's perfect for our iPad users – it's exactly what's needed without anything superfluous," Richard says.
Richard is very pleased with the rollout of the password management software. To get users enrolled is a very simple process, and they can then reset their passwords themselves with the mobile app or through any browser window. The installation of Specops was also very straightforward. Unlike the other solutions considered, Specops Password Reset doesn't require an additional server and the data is securely stored in the school's existing Active Directory.
The biggest difference can be seen in the satisfaction of the users and the effectiveness of the IT team. "We're now able to implement a stronger password expiration policy and get back on track with other projects," Richard says. "Such as rolling out next generation Wi-Fi in the schools, deploying video-based learning and upgrading our servers and storage."
Richard spoke about his experience at the Identity Management conference in London for 400 industry peers within security, identity and access. His sessions was titled: A Simple But Effective Approach to Self-Service Password Management (What Happens When Everyone Has An iPad and Their Passwords Expire).