Our dedicated Product Specialist team is always ready to help you when you need it the most.
Contact Support
Enabling Email Notifications from Specops Authentication
Email notifications sent from the Specops Authentication platform (uReset, Secure Service Desk, Key Recovery) must be sent from an email address in the customer domain.
Allowed Domains
The sender address must be from an email domain associated with your customer account. The list of domains can be viewed managed in the SA Admin Web under the Account tab. The email domain must be listed and verified here in order to send emails from that domain.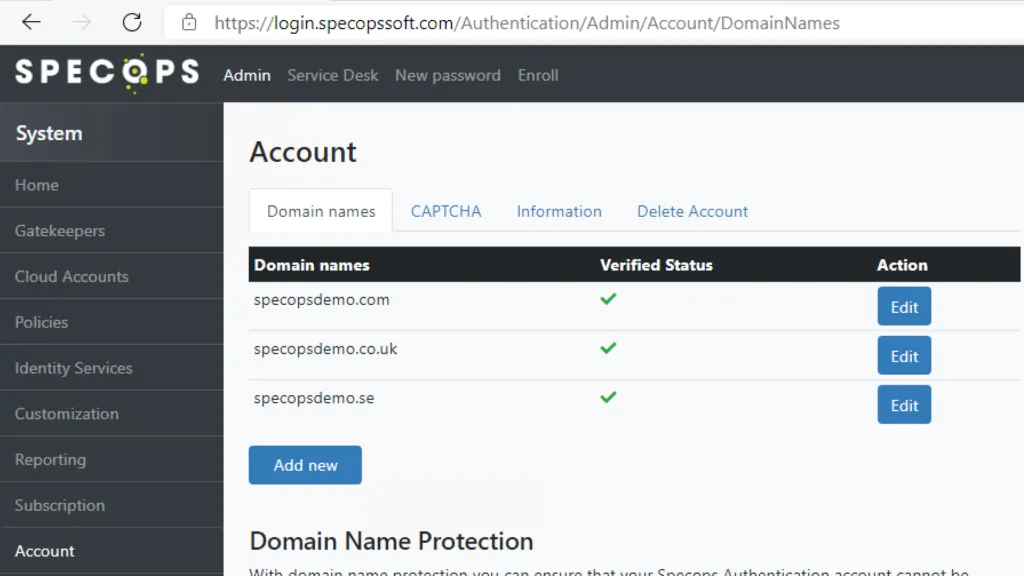 Email Security and Delivery Controls
Specops Authentication uses Sendgrid for email distribution. All emails from Specops Authentication will originate from Sendgrid-owned IP address 168.245.19.207
If your email filters have their own system for restricting sender addresses for your email domain, ensure this IP is allowed to send.
If you use SPF, add this IP to your public SPF record for each domain, e.g.
"v=spf1 mx a ip4:168.245.19.207/32 include:your.mail.servers.com -all"
If you require DKIM/DMARC support, Specops can help create the required configuration. Please open a case with Specops Support for assistance.