Our dedicated Product Specialist team is always ready to help you when you need it the most.
Contact Support
Password Policy User Count Is Outdated
Please note this article applies only to Password Policy 7.6 or later. If you have not yet upgraded to Password Policy 7.6 and are encountering a license error, please reach out to licensing AT specopssoft dot com
When viewing Password Policy license usage in Password Policy Domain Administration, admins may encounter the following error:
The user count is outdated. The counting is expected to run once a day. Make sure that the Sentinel is installed and running on the PDC Emulator.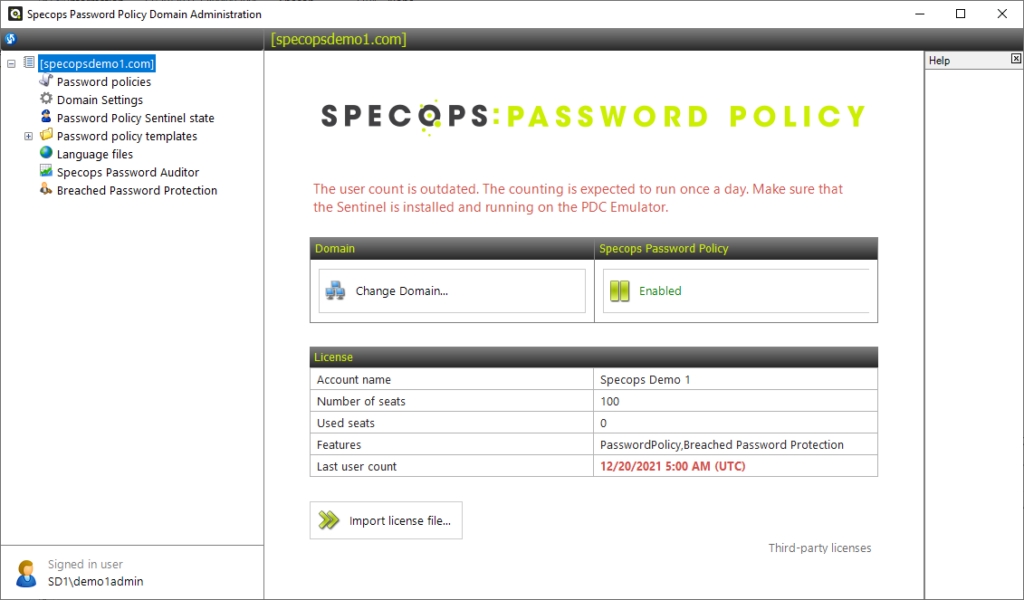 To remediate this error, check the health of the Password Policy Sentinel on the PDC emulator.
If you are unsure which domain controller is the PDC, run the following PowerShell cmdlet on any domain controller:
get-addomain |select PDCEmulator
The Specops Password Policy Sentinel service is responsible for the daily license count. Verify this service is installed and started; if the service is stopped user counting will not run, resulting in the outdated license error.