New job creation from foreign investment in the UK 2020
Foreign Investment in UK
Foreign investment in the UK is very important for the performance, growth and success of various economic variables. This being especially true for employment.
With Brexit causing a lot of economic and political uncertainty, it has undoubtedly made the UK a turbulent market to invest in. Despite this, a recent study by Ernst & Young found that the UK is still Europe's leading foreign direct investment (FDI) destination. Given the UK's strong infrastructure when it comes to areas such as technology, property and transportation, it is perhaps understandable to see why this is the case.
Additionally, with the UK now out of the European Union and the government trying to secure the best possible trade deals through intense negotiations, in all the doom and gloom there is some optimism for the future.
How many new jobs is foreign investment in the UK creating?
Interested in the labour market, cyber security specialists Specops Software analysed the latest findings from Gov.uk, to discover how many new jobs have been projected for 16 different UK sectors as a direct consequence of foreign investment (FDI) made in April 2018 – March 2019.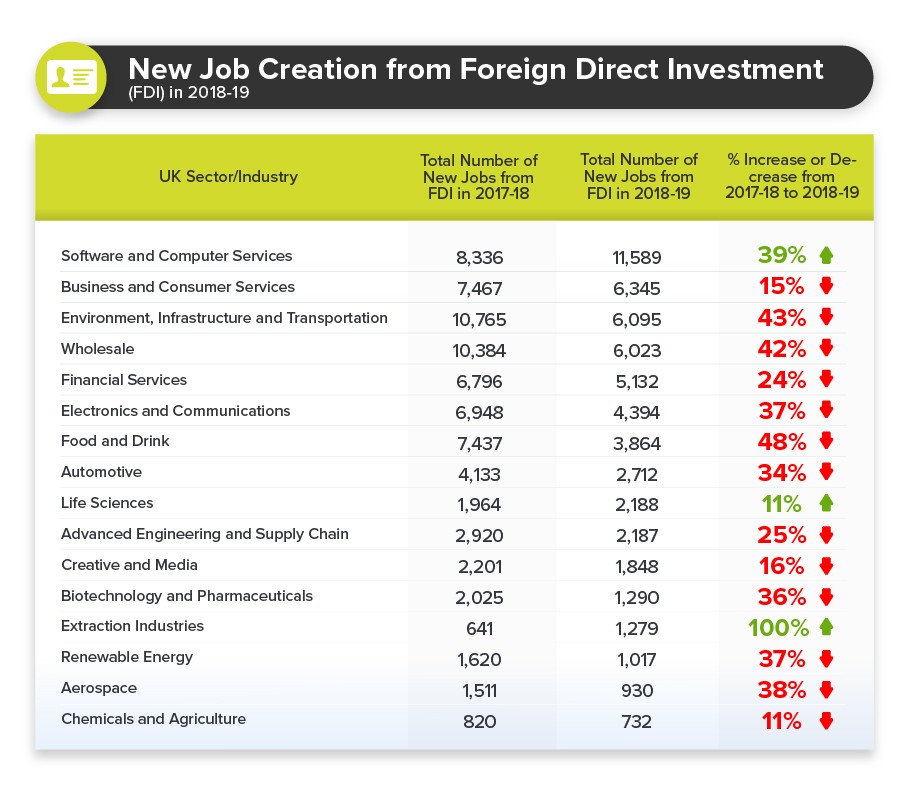 The foreign investment study found that FDI in the software and computer services industry will create the highest amount of new jobs at an astronomical 11,589 – comparable to 223 new positions every week.
Subsequently, FDI in the business and consumer services sectors is set to facilitate 6,345 new roles. This represents a 15% fall from 2017-18, when FDI in the sector generated 7,467 new jobs.
Opposingly, FDI in the chemicals and agriculture industry will produce the least number of new jobs at 732 – the equivalent of 14 new occupations each week.
Interestingly, the food and drinks industry saw the biggest fall (48%) in FDI job creation when comparing 2017-18 figures (7,437) to 2018-19 (3,864).
Overall, FDI made in 2018-19 is anticipated to create a total of 57,625 new jobs. Unfortunately, it means a decrease of 24% in comparison to 2017-18, when UK FDI contributed towards a monumental 75,968 new jobs. To put that into a more digestible context, there were 18,343 less new jobs from FDI in 2018-19.
How will new jobs created from foreign investment in the UK benefit different regions?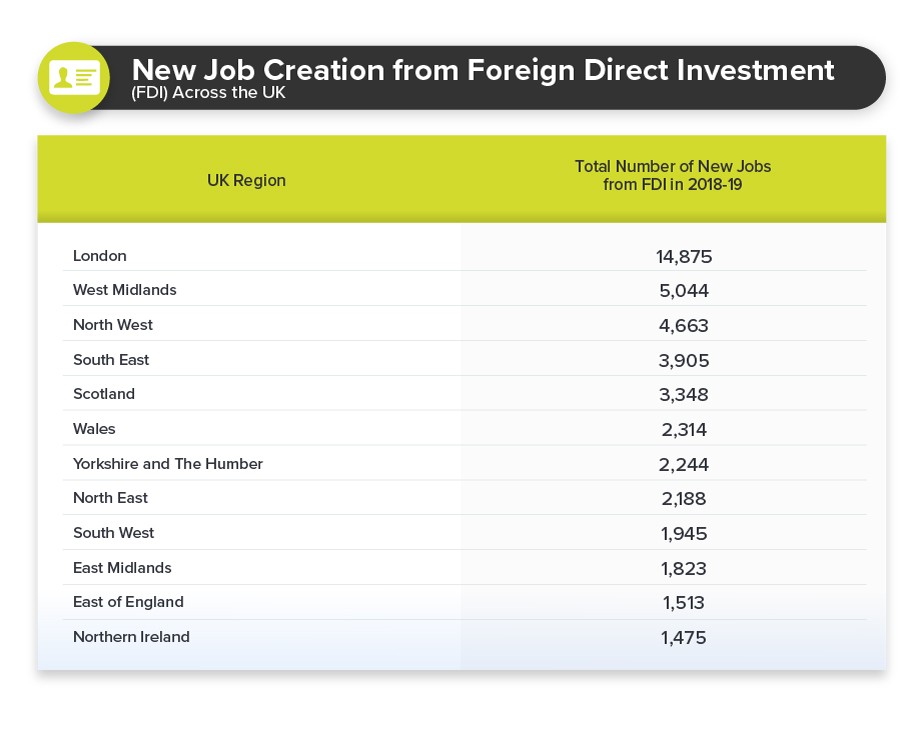 UK foreign investment statistics show that London will get the lion's share of the new jobs created through FDI. In fact, FDI in the capital will lead to a staggering 14,875 new roles – the equivalent of 41 new jobs per day.
Thereafter, the West Midlands is expected to gain 5,044 new jobs from FDI. Whilst the North West will benefit slightly less, with 4,663 new roles – equivalent of 13 new roles each day.
On the other end, Northern Ireland and East of England are the regions projected to have the least new jobs from FDI, at 1,475 and 1,513 respectively – around 4 new jobs per day.
UK foreign investment in the face of the coronavirus crisis and beyond
The coronavirus has been an unprecedented crisis. Unfortunately, it has so far had a devasting impact on businesses, jobs and general life. With a global downturn now very much on the horizon, investors will be much more cautious to invest. This will be problematic for many organisations in different industries who are reliant on this foreign investment to drive their key operations and future aspirations.
Once the situation is more contained and government stimulants bring some much-needed stability to the financial markets as well as overall economy – regaining the confidence of foreign investors will be a required measure as one variable to stimulate further growth. To achieve this, governments will need to consider giving serious foreign investors tax breaks or grants to make it a more viable and lucrative proposition for them to invest in UK businesses.
Of course, the government may need to set specific terms for foreign investors to get the tax relief or subsidies– such as only providing them to foreign investors that want to make investments in industries which have suffered the most from the coronavirus outbreak such as the hospitality sector. Such qualifying criteria will need to set by the government – ideally clauses which enable foreign investors to help suffering industries get the needed cash flow to gradually rebuild and recover whilst also supporting those wanting to set-up new enterprises.
Within the rebuild and recovery phase for existing business, using the foreign investment to safeguard as many jobs as possible and in due time creating new ones. For it to be truly successful, the government could set up a system which would allow businesses from qualifying industries (i.e. those most in difficulty due to the virus) to register and provide key operational details which in turn can be accessed by any foreign investor enquiring/interested in the tax breaks or grants – by doing so, allowing the foreign investors to truly assess their options and make the best investment decision possible. Such a system would also eradicate businesses from just major cities, such as London, benefiting – since it would be open to the whole country and propose areas to foreign investors that they may never have considered.
(Last updated on October 30, 2023)