---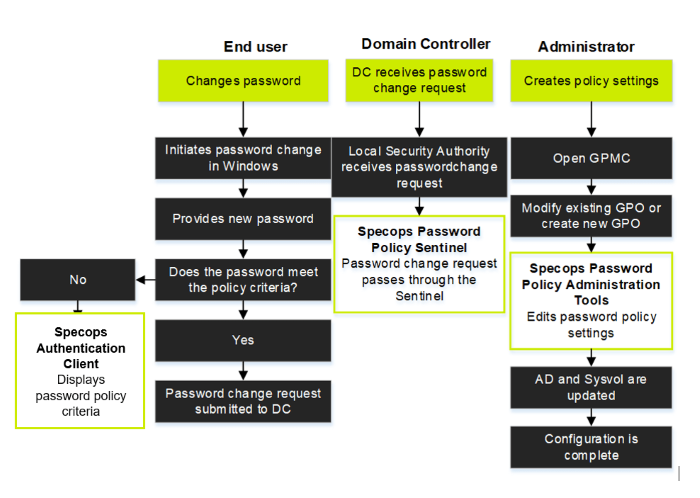 Specops Password Policy consists of the following components and does not require any additional servers or resources in your environment.
Specops Password Policy

Administration Tools

Used to configure the central aspects of the solution and enable the creation of Specops Password Policy Settings in Group Policy Objects.
Specops Password Policy

Sentinel

The Specops Password Policy Sentinel is an installation package that must be installed on all writable domain controllers in a domain.

The Specops Sentinel consists of the Sentinel Password Filter, and the Sentinel Service.
Sentinel Password Filter: The Sentinel Password Filter is a Windows Password Filter that verifies whether a new password matches the Specops Password Policy settings assigned to the user.
Sentinel Service: The Sentinel Service is always installed as part of the

Specops Password Policy

, but effective only if the

Breached Password Protection

add-on is configured.
For more information on the Sentinel, please refer to the Password Policy Sentinel page.
Specops Authentication Client
(formerly known as the Specops Password Client or the uReset Client) Displays the password policy rules when a user fails to meet the policy criteria when changing their password. The Client also notifies users when their passwords are about to expire.

The Specops Client is an optional component.
Specops Arbiter: The Specops Arbiter should only be installed if you are using the Specops Breached Password Protection add-on.
The Specops Arbiter acts as a gateway between the Sentinel Service and the Specops Breached Password Protection Cloud API, where the list of leaked passwords is found. The Specops Arbiter uses a customer unique API key to communicate with the Breached Password Protection Cloud API.