Our dedicated Product Specialist team is always ready to help you when you need it the most.
Contact Support
Breached List download problem when trying to run Specops Auditor and Breached Password Protection
Description:
When you Specops Password Auditor, and you try checking for a Breached Password Protection dictionary update this message comes up:
Failed to check for the latest version of the Breach list at https://breach-protection.specopssoft.com/. Make sure there is an internet connection and that the URL is not blocked by a proxy or firewall.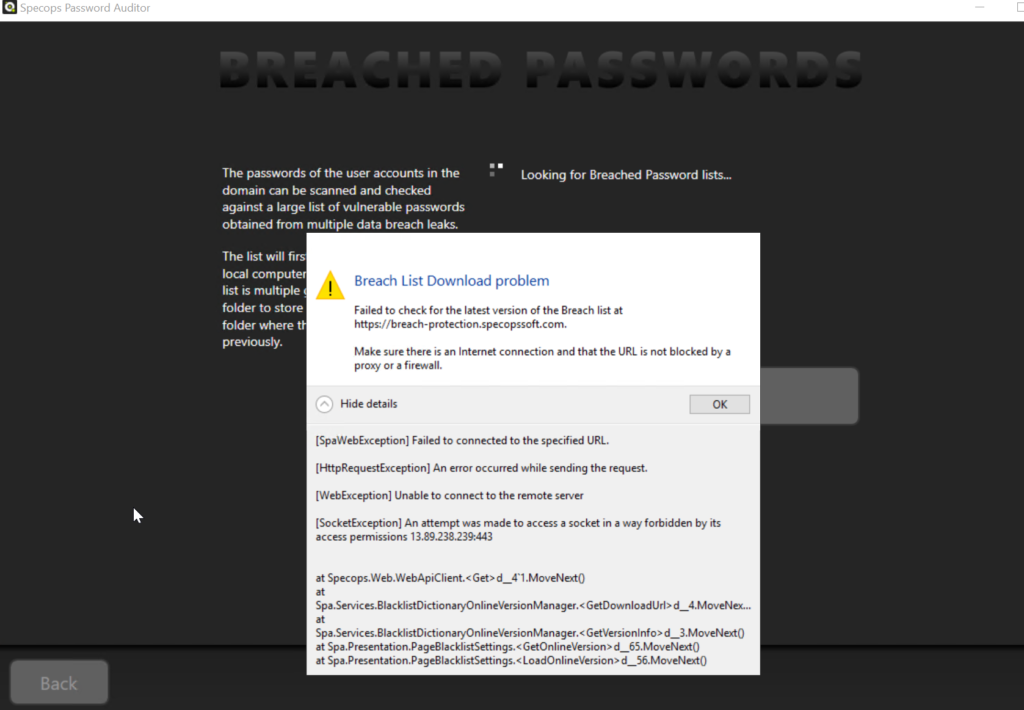 Solution:
To use Breached Password Protection, Specops Password Auditor must have outbound access through proxy/firewalls to the following URLs below. Make sure that they are allowed for TCP/UDP for ports 80 and 443.
https://breach-protection.specopssoft.com/
https://download.specopssoft.com/
For checking the certificate, access through proxy/firewalls is necessary to:
2. This message can also turn up if you for instance are running it on a Windows Server 2008, or a 32 bit operating system machine. Make sure that your organization's environment meets the following system requirements for Specops Password Auditor:
.NET 4.7.2 (recommended)
Server 2012 or above (or Windows 8 and above if running on a workstation)
Must be Domain joined and able to contact a domain controller
No Particular RAM/CPU/Disk requirements, but must be x64 with at least 6.1GB free space for the Breached Password Protection Express Database.