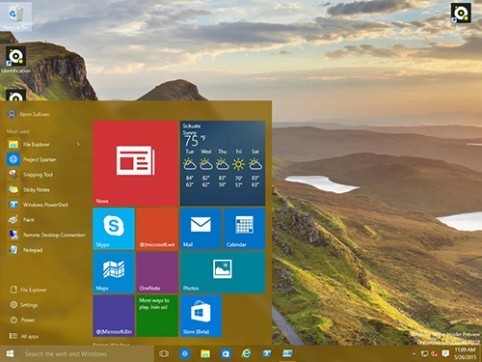 Press release: Specops Software supports Windows 10 in Specops Password Management
Support for Windows 10 in Specops Password Policy, Specops Password Reset and Specops Password Sync
Support for the new Google API in Specops Password Sync
Maintenance release delivers continued development
Stockholm, Sweden – May 25, 2015. Specops Software announced today the release of a software update of Specops Password Management. The update includes support for Windows 10, the much anticipated next operating system from Microsoft. In addition to a number of fixes, the maintenance release also includes support for the new Google API in Specops Password Sync.
The maintenance release of Specops Password Management 6.3 is in line with the company's approach to continuously develop its award-winning software to meet the needs of current and future customers.
"We strive to continuously improve our products and ensure that our customers are prepared for industry-changing technology, such as Windows 10," says Thorbjörn Sjövold, CTO of Specops Software. "We are very proud to be able to support the latest operating system, even before it is released."
The maintenance release includes Windows 10 support for the Specops Password Client and the Administration tools used in Specops Password Policy, Specops Password Reset and Specops Password Sync.
Specops Software recently announced the release of the next generation of self-service password reset solution, Specops uReset. The solution revolutionizes password security by utilizing claims-based identity to provide flexible multi-factor authentication as a means of addressing the password reset security and flexibility needs of organizations.
Specops Software is an award-winning software company that develops solutions for desktop and password management which extend the functionality of Windows infrastructure. With offices in the US, Canada, the UK and headquarters in Stockholm, Sweden, Specops Software helps companies, organizations and educational institutions in more than 50 countries. Specops Software has grown steadily since it was founded in 2001 and reports strong turnover and solid profit.
Press contact:
Aimée Ravacon
+468 465 012 41
(Last updated on August 2, 2018)