What's Your Score? New Executive Summary Reports Available in Specops Password Auditor
Today's release of Specops Password Auditor makes it easier for you to get sign-off on your password security project.
"The IT admins we talk to understand the need for fixing the password vulnerabilities in their Active Directory environments," said Darren James, Product Specialist at Specops Software. "But they tell us that communicating the problem to get budget sign-off isn't always easy."
Today's release introduces the ability to export an executive summary PDF, making it easier to share your results with people in your organization who have not run the free Password Auditor scan themselves. The executive summary helps bridge the communication gap between technical IT professionals and less technical management.
"With today's release, hopefully getting that budget sign-off is a little bit easier," continued James.
The executive summary includes:
An overall score, to help indicate how severe your organization's password vulnerabilities are
Risk levels for each password vulnerability along with a count of the accounts impacted
Brief explanations of why each issue is a risk
Simple advice on how to fix each issue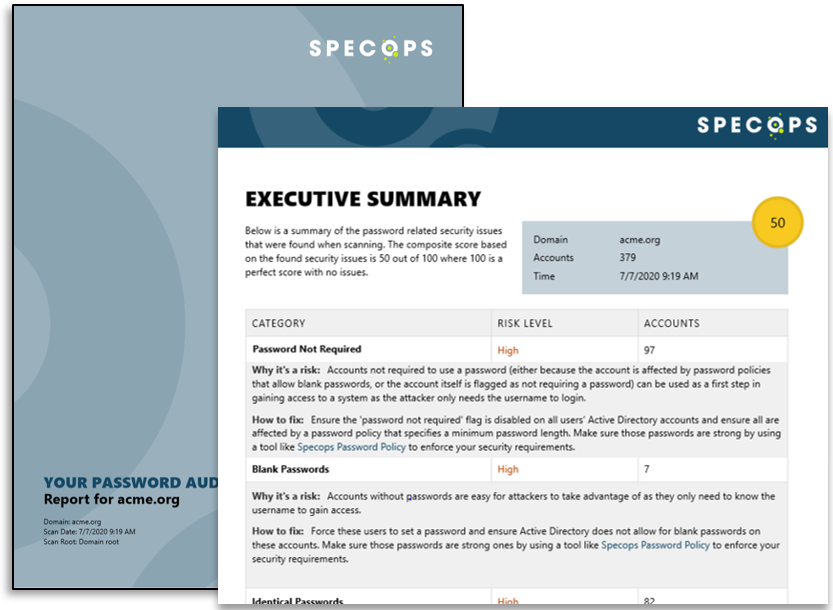 ---
This summary helps answer the question of "how bad is our password security problem?" and serves as a good follow-up to stats like the below on the average cost of not dealing with it.
By answering the question of "how bad is our password security problem?" Specops Password Auditor can quantify the ROI of a new password security solution (simply run your scan again and compare it to your previous report).
IT administrators know that when an attacker gains access to your network because of a weak or compromised password, it can be costly.
The Ponemon Institute found that the average total cost of a data breach was USD $3.92 million in 2019.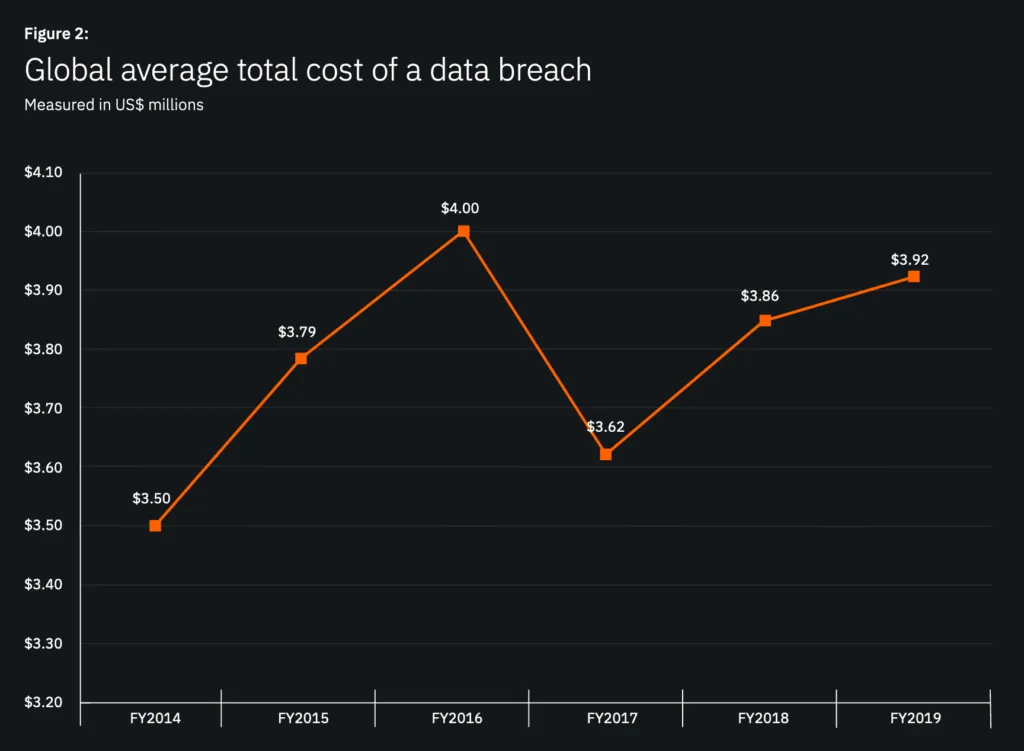 ---
That average total cost was higher if your company was in the United States ($8.19 million) or in the healthcare industry ($6.45 million).
Need more help making the case to management? Check out this post on strategies for securing sign-off.
"Specops Password Auditor has helped thousands of IT administrators identify password vulnerabilities in their Active Directory environments," said Lori Osterholm, CTO at Specops Software. "These IT administrators are using Specops Password Auditor because they know the cost of ignoring a password problem. The addition of this executive summary report aims to help strengthen their case to management to secure budget to solve it."
IT administrators can access this new summary report by running Specops Password Auditor and hitting the "Export to PDF" button on their results screen.
Specops Password Auditor is a read-only program that does not store Active Directory data nor does it make any changes to Active Directory.
Get your own Password Auditor executive summary report by downloading and running your (free) copy of Specops Password Auditor.
About Specops Software
Specops Software is the leading provider of password management and authentication solutions. Specops protects your business data by blocking weak passwords and securing user authentication. With a complete portfolio of solutions natively integrated with Active Directory, Specops ensures sensitive data is stored on-premises and in your control. Every day thousands of organizations use Specops Software to protect business data.
Media Contact
outpost24@eskenzipr.com
(Last updated on October 26, 2023)