---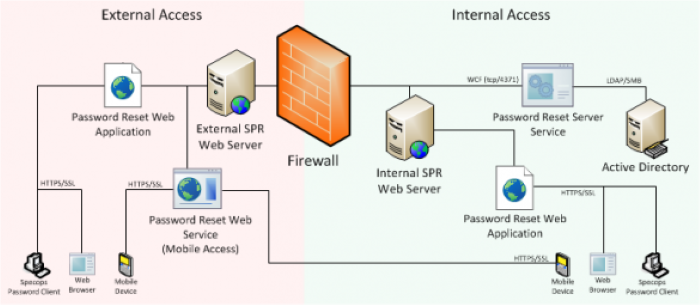 Specops Password Reset consists of the following components and does not require any additional servers or resources in your environment. The architectural overview above shows the communication between the components in a typical installation. Note that the Password Reset Server and Password Reset Web components are typically installed on the same server inside the network.
Server: Manages all operations against Active Directory, such as changing/resetting passwords, and responds to requests from the Specops Password Web application.
Administration Tools: Used to configure the central aspects of the solution and enable the creation of Specops Password Reset settings in Group Policy Objects.
Web: Displays the end user interface of the product and communicates with the Specops Password Reset server to verify user input.
Specops Authentication Client (formerly known as the Specops Password Client): The Specops Authentication Client presents a link to the Specops Password Reset Web application on the Windows logon screen, and presents end user notifications about enrollment requirements.