Introducing Dynamic Feedback at Password Change
Specops Software announced today the latest release of Specops Password Policy, 7.6, and the Specops Authentication Client, 7.15. This release introduces many new features, including dynamic feedback for end users at password change. With this release, users will now see feedback on the new passwords they choose at the Ctrl+Alt+Delete password change screen.
"We're excited about this release because it's delivering on something we love to deliver on: a better end-user experience that also improves security," said Darren James, Product Specialist at Specops Software. "With feedback as you type when you create a new password, you make the process of creating a new secure password even easier which means fewer frustrated users and fewer calls to the helpdesk. It's a win for everyone."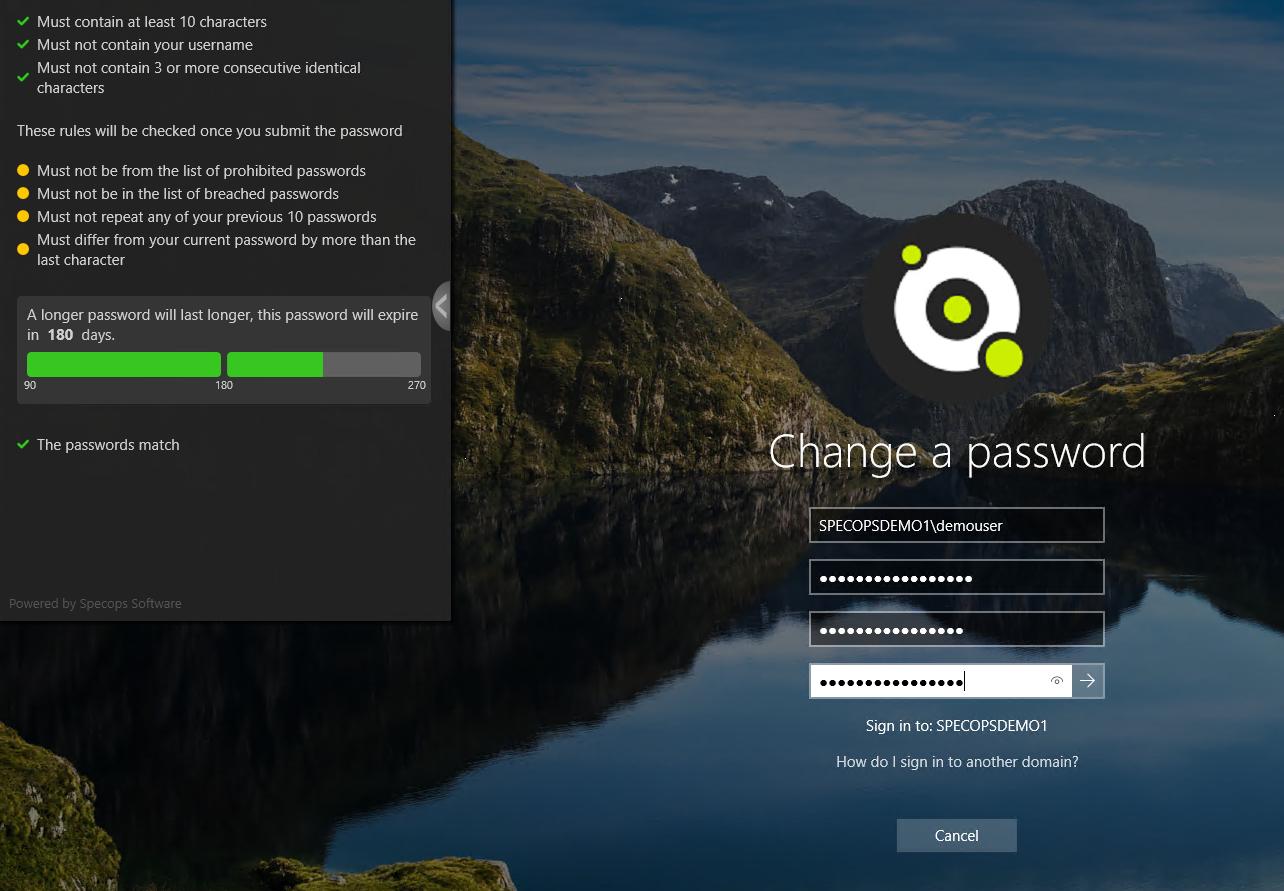 This dynamic feedback screen is available for any Specops Password Policy or Specops uReset customer using the Specops Client 7.15 and above.
"My favorite part is the length-based password aging feedback," continued James. "We've had the capability to visually showcase this feature in uReset for a long time, but today we get to bring that much-loved feature to the on-prem password change screen. A lot of end users who hate having to change their passwords will be a little happier today."

Length-based password aging is a feature in Specops Password Policy that rewards end users with more time between password expirations when they choose longer passwords. It's the kind of feature that both end users and security professionals love because the end result is a more secure password with more time before you have to come up with a new one. This feature has long existed in Specops Password Policy and is now available at the Ctrl+Alt+Delete password change screen.
Today's release also introduced a continuous scan of the Specops Breached Password Protection Express list. Rather than have to manually trigger a scan, Specops Breached Password Protection customers can enable nightly scans of the Express list. This helps cover many scenarios, for example where users were moved into a policy covered by Breached Password Protection but who have a long time remaining before they have to change their password.
"The continuous scan of the Breached Password Protection Express list is another great add in this release," said James. "It brings a peace of mind to admins to know that end users' passwords can be checked nightly."
Read more about what is included in this release in the release notes.
Specops Breached Password Protection works together with Specops Password Policy so that companies can block all passwords found on the list of over 4 billion compromised passwords, making it easy to comply with industry regulations, such as NIST or Cyber Essentials. The service blocks people from choosing banned passwords in Active Directory and informs the user as to why they cannot use the password.
If you're not already a Specops Breached Password Protection customer, you can find out how many of your Active Directory users are using leaked passwords by running a free read-only scan with Specops Password Auditor. Read more and download Specops Password Auditor here.
About Specops Software
Specops Software is the leading provider of password management and authentication solutions. Specops protects your business data by blocking weak passwords and securing user authentication. With a complete portfolio of solutions natively integrated with Active Directory, Specops ensures sensitive data is stored on-premises and in your control. Everyday thousands of organizations use Specops Software to protect business data.
(Last updated on May 27, 2021)